For your convenience, we have created a short comparison of the differences between Plywood and Solid wood seats.
Solid wood seats have many advantages over plywood seats which is why all of the seats on our wood chairs and bar stools are made of 100% solid maple wood. Solid wood seats are thicker than their thinner plywood counterparts. Solid wood seats are also more comfortable – our solid wood seats are saddle shaped for a more pleasant look and feel.
Solid wood seats also usually have a beautiful grain in the wood as opposed to the flat look of plywood seats. Solid wood seats are less vulnerable to cracking under heavy use than plywood seats.

When solid wood seats are stained, the finish is absorbed deep into the wood. This lessens the appearance of dents and scratches. The glue used in plywood means prevents the stain from being absorbed past the first layer, giving it a more flat appearance.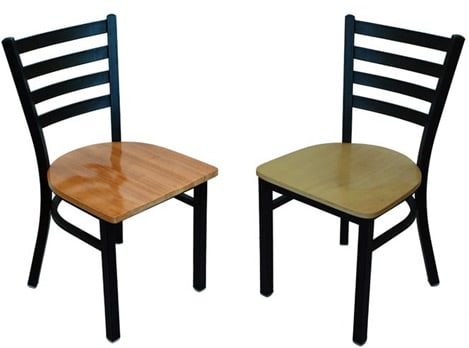 Be aware that many companies advertise that their chairs come with a "wood seat" when this doesn't necessarily mean you will get a solid wood seat, you may get an inferior plywood seat instead. Many companies use plywood because it is cheaper.