Furnishing your restaurant with the right set of commercial grade chairs is an integral component of your seating plan. Commercial dining chairs range from metal to wood. Apart for the myriad of seating options for restaurant seating, the durability, functionality and comfortable seating are important qualities that a restaurant chair should possess. If you have a strong preference for wood chairs for your restaurant, there are a few things you should know before making a purchase:
Important questions to ask are:
The different types of wood chairs
Whether they are tested for strength and approved by BIFMA
If they come fully assembled
Duration and effectiveness of warranty on these chairs
If these chairs are designed for commercial use
Below is a visual comparison between commercial and non commercial wood chairs:

Your chairs will be delivered to you fully assembled, saving you time and money.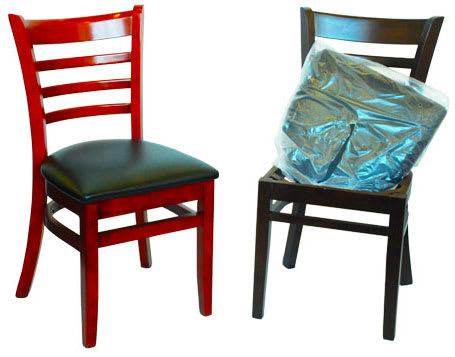 Our commercial grade chairs are reinforced at key pressure points and have a thicker cross-section for extra support. The chairs are strength tested and approved by BIFMA. Our chairs are also come with an extensive warranty which guarantees the chairs will be free from defects for 2 years.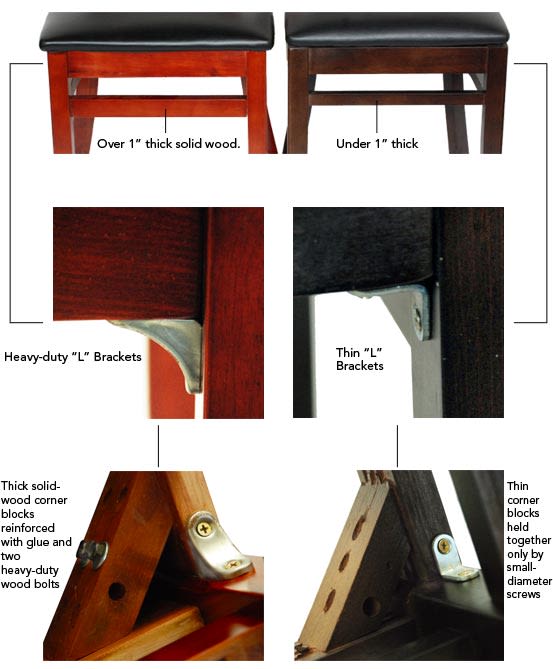 Our chairs also have backs that are at least ½" wider, providing extra comfort and support.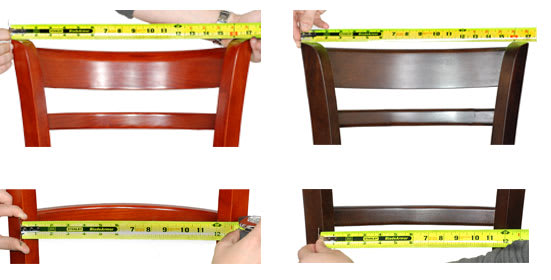 Understanding the anatomy of wood chairs can shed insight to their functionality. You may find these commercial grade chairs in a variety of styles and finishes but they all have some reinforcement of joints. Commercial grade wood chairs typically have a sturdier feel and use stronger materials in comparison to residential chairs. As such, these chairs are built to cope with the rigorous demands made by high traffic commercial environments.
When buying wood chairs, it is imperative that they are strength tested and approved by BIFMA, the leading authority in the commercial furniture industry. Chairs made for residential use will not withstand heavy usage for long periods of time. While such wood chairs may appear to be identical, a meticulous inspection will reveal several big differences.
Most wood chairs feature support bars that connect the legs to each other for extra stability and resistance. Commercial grade chairs have a wider support bar than residential chairs. The support bar is reinforced with a larger and stronger L shaped bracket. The chairs also have thick solid wood corner blocks that are secure d with glue and heavy duty screws.
The wood seat is also a consideration when shopping for the right chair. Residential chairs are constructed with a plywood rounded seat whereas a commercial grade seat is usually made of solid wood and is saddle shaped. Not only does this type of seat last longer but guarantees a more comfortable experience for guests.
Commercial grade chairs tend to come fully assembled for the most part, saving you time and money. They also meet the regulations set by BIFMA which eliminates a lot of hassle. An extensive warranty which ensures that the chairs will be free from defects for 2 years is included and effective upon purchase.
Any commercial grade wood chair functions in most venues. While functionality is paramount, the style plays an important role too. Not only should the chair be visually appealing to you but it should also blend in with your décor. For example, a mahogany or a cherry stained wood chair is recommended for a dimly lit room with candles on the table. The contrast of hue on those stains reflect the light emitted from the candles very nicely thus creating a romantic atmosphere of the venue.
A wood chair with a natural or walnut finish may look more inviting to guests in a more casual restaurant that is well lit. The same goes for the design of the chair where a Leonardo wood chair would be appropriate for an upscale restaurant. The curvy back design combined with its rich undertones makes this wood chair ideal for ritzy bistros, restaurants, and lounges. A window back wood chair would highly compliment a restaurant with a country motif. The same principles, considerations, and guidelines can be applied to wood bar stools as well.